Brand vs. logo has forever been a source of confusion.
People often think that a logo is the brand, when in fact the brand is much, much more. Think about a company that you love what they do or what they stand for, but think their logo is terrible. Or alternatively, think of a company where you think their logo is great, but you hate what they stand for because you've had a bad experience or heard terrible things. These are situations where you are able to discern the logo from the brand.
A logo is an integral part of a brand and is the main visual identifier of a company, but is often confused to be their brand. If you are included in this category, you are certainly not alone. Below I have broken down the common terms when referencing brand to help clarify the confusion.
Brand is the essence of who you are as a company. It is what your target market perceives your business to be. This includes their thoughts, experiences, feelings and knowledge about your product, service or company. It is important when creating a brand strategy to understand your vision, value proposition, promise, differentiators and personality to help ensure all brand elements effectively communicate the brand you want your target market to perceive. This act of shaping your target market's perceptions of you is what is called branding.
Logo is the single visual/graphical representation of your brand. It is the recognizable element that communicates the characteristics of your brand. A logo can be a symbol, wordmark, graphic, icon or a combination. A good logo is an important tool to differentiate you from your competition and help your target market recall who you are. Great logos are memorable and instantly identifiable.
Brand Identity is a collection of brand elements that include your logo, colours, typography, brand voice, photography, etc. that through a cohesive application create the tangible representation of your brand. Your brand identity should be consistently applied to all external communications including website, videos, advertisements, signage, etc. Consistent application will help to ensure clear brand communication.
The branding design process is much more than creating a great looking logo. It begins with understanding and/or developing your brand. Based on your brand a logo and the network of elements that make up your brand identity is created to embody everything that your business represents and also helps differentiate you from your competitors.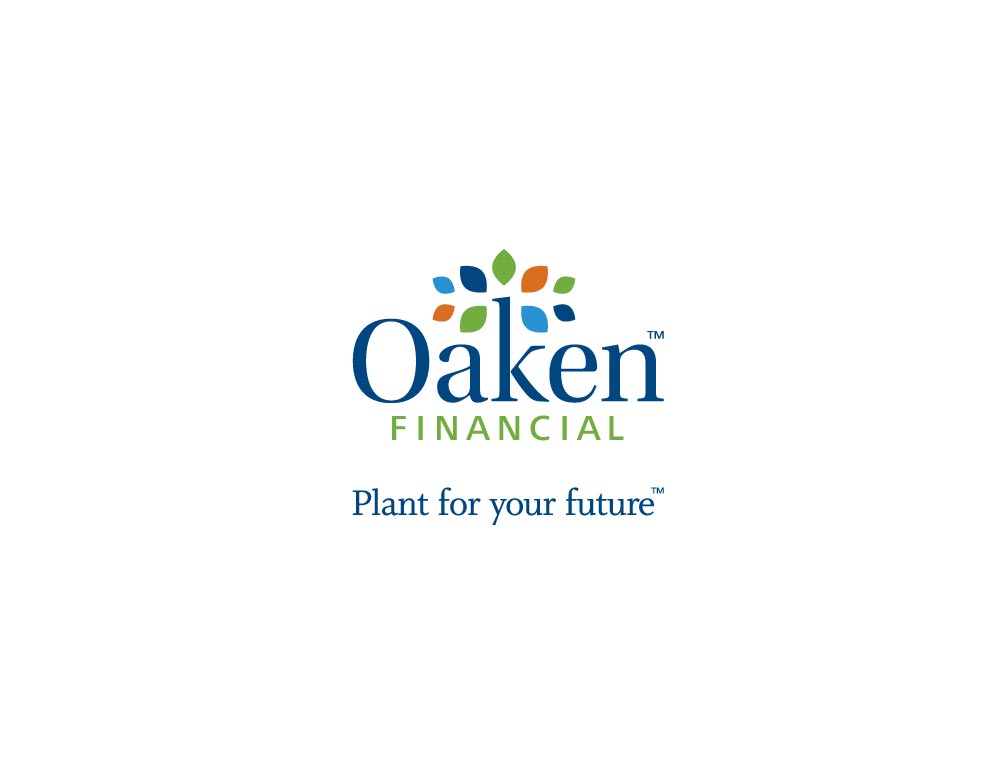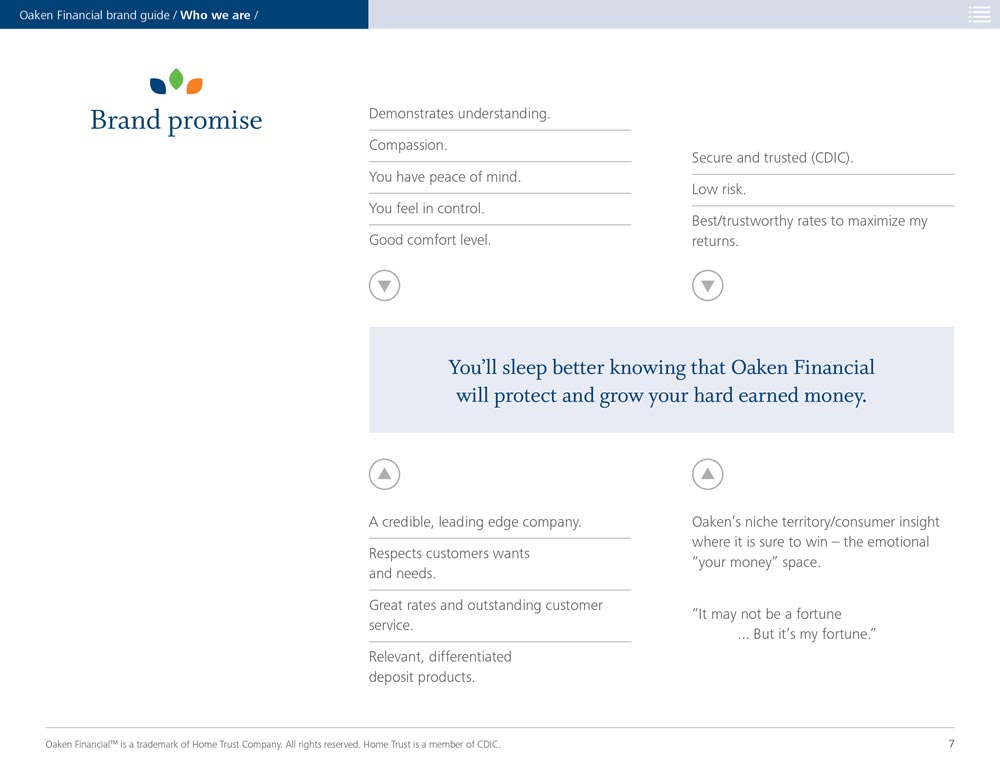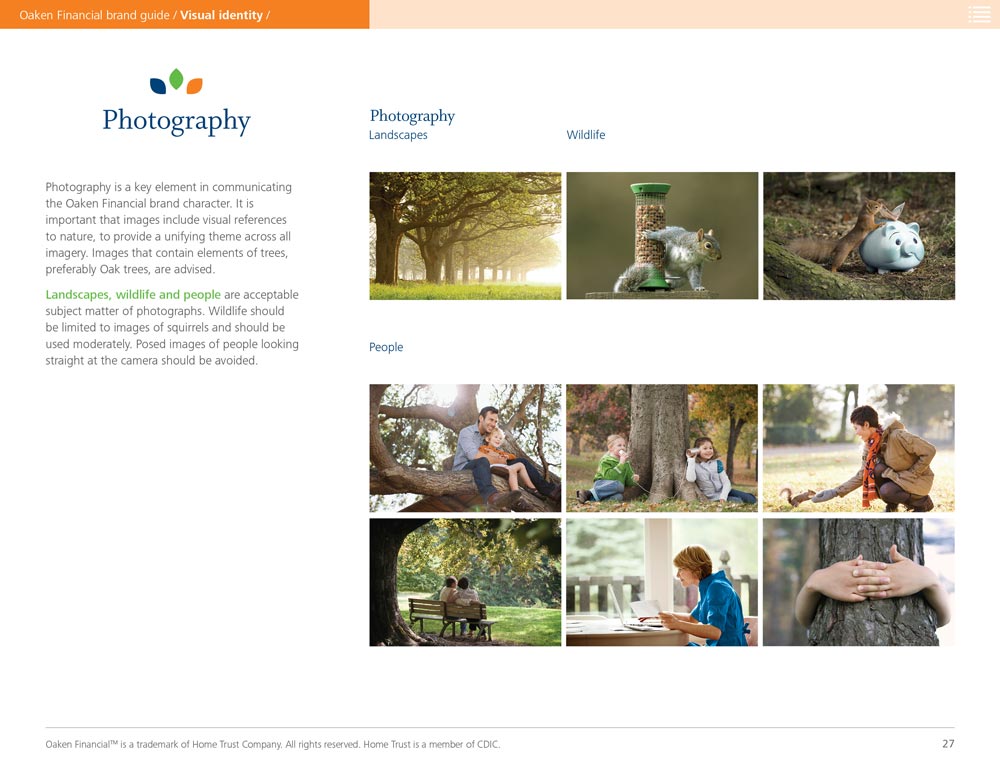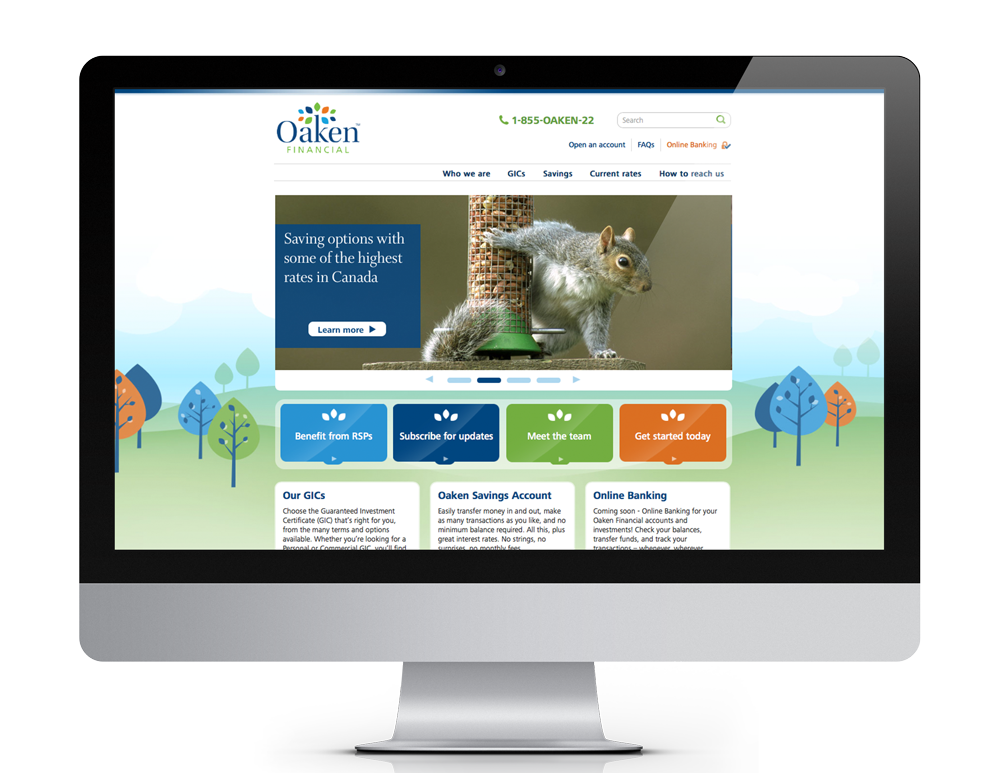 As the primary agency in developing the brand identity for Oaken Financial, we brought all of our tools to the table for a truly integrated approach. Oaken was a new division introduced by Home Trust, one of Canada's leading trust companies since 1977. As a new name, the brand identity had to make a big impact to lead to its success. After becoming familiar with the client's brand goals Strength, Security, Established and Growth, we began brand development. We focused on the Oak part of the name as the giant tree has connotations of being a sturdy structure that through its strong roots continues to grow, providing home to many squirrels that collect its acorns. This idea reflects the brand promise that "You'll sleep better knowing that Oaken Financial will protect and grow your hard earned money". When developing the complete brand identity, we realized that the bright colour palette was key to representing that the best investment portfolio is diversified and also appeal to a broad target market, as a key operating principle was to be approachable and easy. Since launch, the brand identity has seen successful application to everything from their website and marketing materials, to their physical office spaces. This is truly a great brand that supports the tagline we helped develop, "Plant for your future".
So the next time you are thinking about buying that cheap graphic that could be your logo, think about if it really is the best representation of your brand.